Seaside Shotokan Instructors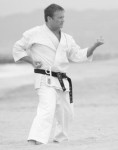 JAMES OATES(Chief Instructor) – Jim is the Senior Instructor at Seaside and began study with Sensei Penny Ringwood in the fall of 2001.  He lives in Marina Del Rey and in his off time enjoys sailing, flying, and diving along the Southern California coast.  Jim currently holds the rank of Yondan(4th degree Black Belt) in Shotokan Karate.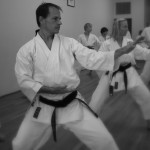 JOE JOHN MCVEY – Joe John was one of the founding members of Seaside Shotokan, joining the dojo in 1996.  Prior to joining Seaside, Joe John trained for many years in tradtional Japanese Goju-ryu Karate, a form of Karate closely related to Shotokan.  Joe John is a proud dad and a very gifted Karate practitioner.  Joe John holds the rank of Sandan(3rd degree Black Belt) in Shotokan Karate.
Our Shihan(Master)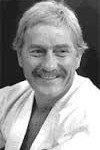 RAY DALKE – Sensei Dalke is truly an American Karate Master, and is the highest ranking American ever in the Martial Art of Shotokan Karate.  He taught in the physical education department at the University of California, Riverside for 30 years, guiding the Shotokan Karate team there to five National Championships.  Sensei Dalke has operated numerous regional Shotokan Karate dojos in Southern California, and now spends much of his time on tour providing Karate Seminas throughout the world, under his International Brotherhood of Shotokan Karate.  Sensei Dalke holds the rank of 8th Dan, and is Seaside's Shihan through his International Brotherhood of Shotokan Karate association.
Affiliated Instructors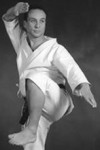 TY APONTE – Sensei Ty is the chief instructor at the United States Karate League/Defense Arts Center Dojo in Upland (under the proprietorship of Sensei James K. Augur) and in addition heads the Claremont Colleges and The University of La Verne (Physical Education) Shotokan Karate Programs.   Learn More>>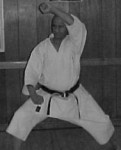 VERN VADEN – Sensei Vaden began his Shotokan study in the early 1960s under Shihan Teriyuki Okazaki in Philadelphia, Pa.  Sensei Vaden moved to Los Angeles in 1972 where he continued his training under Sensei Hidetaka Nishiyama, and from that year through 1985, competed each year on the US National Team in numerous International championships.  In 1980, Sensei Vaden opened his own Karate -Do Academy.  Over his many years of training and study, Sensei Vaden has trained with many of the greatest Shotokan Masters, such as Shihans Enoeda, Kisaka, Yaguchi, Oishi, Shirai, and Yamaguchi.  He currently holds the rank of Rokyudan(6th Degree)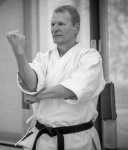 MIKE WHITESIDE – Sensei Mike began his Karate training in 1967 under one of the JKA's finest teachers, Master Ozawa. Mike received his Shodan (first degree black belt) in 1970, and went on to receive his Sandan (third degree) in 1993 from the West Coast Shotokan Karate Association founder, Sensei Edwin Hamile.     Learn More>>