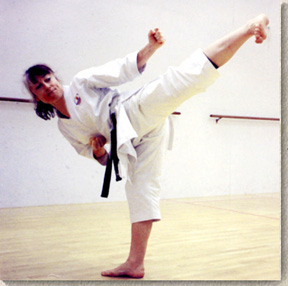 With over 35 years experience in the traditional style of Japanese Shotokan Karate-do, Sensei Ringwood operated and instructed Seaside Shotokan dojo until her passing in October, 2012. Sensei Ringwood began training in 1976, under the tuteledge of world renowned instructor Hidetaka Nishiyamah, 9th Dan – President of the American Amateur Karate Federation and Chairman of the worldwide organization, the International Traditional Karate Federation.
Sensei Ringwood trained and taught in many locations through out Southern California, and competed in both local and international tournaments in the 80s and 90s.  She founded Seaside Shotokan Karate club in Marina Del Rey in 1996.  She moved Seaside Shotokan to it's current location in Playa Del Rey in the summer of 1998.
Sensei Ringwood was renowned for her unmatched precision and technique, and her interpretation and performance of Shotokan Kata. Her careful and insightful instruction inspired the most expert Karate practioners and her most humble students.
Sensei Ringwood trained with some of the best JKA and SHOTOKAN instructors in the world including  (Nakayama, Nishiyama, Enoeda, Shirai, Kanazawa, Yaguchi, Kawazoe, Haramoto, Mori, Kagawa, Marchini, Yabe, Dalke, Schmidt, Field, Murakami and many more)
She is deeply missed.
Some Sensei Ringwood's major accomplishments include:
Honored with 6th Dan – September 2008 by Sensei Ray Dalke of the International Alliance for Shotokan Karate
Received 5th Dan in January 2006 from Sensei Ray Dalke, IASK.
Received 4th Dan in September 1994 from Nishiyama Sensei , ITKF. All preceding Dan ranks received from Nishiyama Sensei
National/ International United States ITKF Team Member from 1985-1998.
Official Coach with U.S.A. team – 7th World ITKF Karate Championships – Treviso, Italy, October 1994.
One of the foremost senior female instructors of J.K.A. style Karate-do in the United States, established and operating independently in Marina Del Rey/Playa Del area for the past twenty-three years.
Most prolific AAKF/ITKF competitor (male or female) in the 80's and 90's: Four time AAKF National Individual Kata Champion 1989, 1990, 1995, and 1996 (1st in individual and team Kata). Two-time silver medalist '87 & '88. three-time silver medalist – team kata '86, '87 '88
Bronze Medal winner, Team Kata 6th Pan American Championships, Brazil, 1985
Double Gold Medal winner (individual and team Kata) at the 7th ITKF Pan-American Karate Championships held in Mexico, December, 1991.
Silver Medalist (Enbu) at the ITKF 6th World Karate Championships held in Montreal, Canada, November, 1992.
Individual Kata, Gold medalist at the 8th ITKF Pan-American Karate Championships held in Puerto Rico, October, 1993.
4th Place finalist, 8th Pan American Championships, Argentina, 1995
Silver Medalist, Individual Kata, ITKF 8th World Karate Championships, Sao Paulo, Brazil, 1996.
Sensei Ringwood is much sought after for her karate experience and expertise. She has presented seminars and clinics at advanced level for the following dojos: USKL Shotokan, Upland; Arcadia Shotokan; West L.A. Shotokan; Tom Serrano's IKA, Pasadena; David Blair's Fontana Shotokan; Victor Young's Camarillo Shotokan; Bradley Webb's Japan Shotokan Karate, Dallas and Imperial College/University Shotokan Club, United Kingdom. She continues to teach monthly seminars Fall to Spring at her dojo and puts on special events, with such legendary guest instructors as James Yabe, Ray Dalke, James Field, and Richard Amos.
Sensei Ringwood is a featured instructor for the Blackbelt Video Magazine Series, Spring 2001, volume 20.
Martial arts consultant/instructor and personal trainer to Melissa George ( for the 2002 ABC show "Thieves", "Alias")